From September 13 to 16 we met between workshops, talks, corridors, and coffee breaks at the Free Software Conference. In different classrooms of the National University of Cordoba we met to listen, tell, learn, debate and build. The meeting took place and we grew in the free software community.
A complete schedule of activities that was carried out together with different institutions and organizations, where more than 170 people participated in the different days. A regional, international and itinerant event with different actors of a growing movement: free software that gathers projects and seeks to launch new ideas and face challenges. From Fundación Vía Libre, we started the meeting on Wednesday 13, with 40 people registered and actively and enthusiastically participating in the programming workshop "Adapting Open Language Models for specific tasks", where Guido Ivetta and Hernán Maina from the ethics team of the Foundation, together with Laura Alonso Alemany as a collaborator, gave a lecture. The workshop notebook is available, so that in less than two hours you can adapt a model and leave a demo running on the Hugging Face site.
Link to the notebook: https://acortar.link/ysnu0e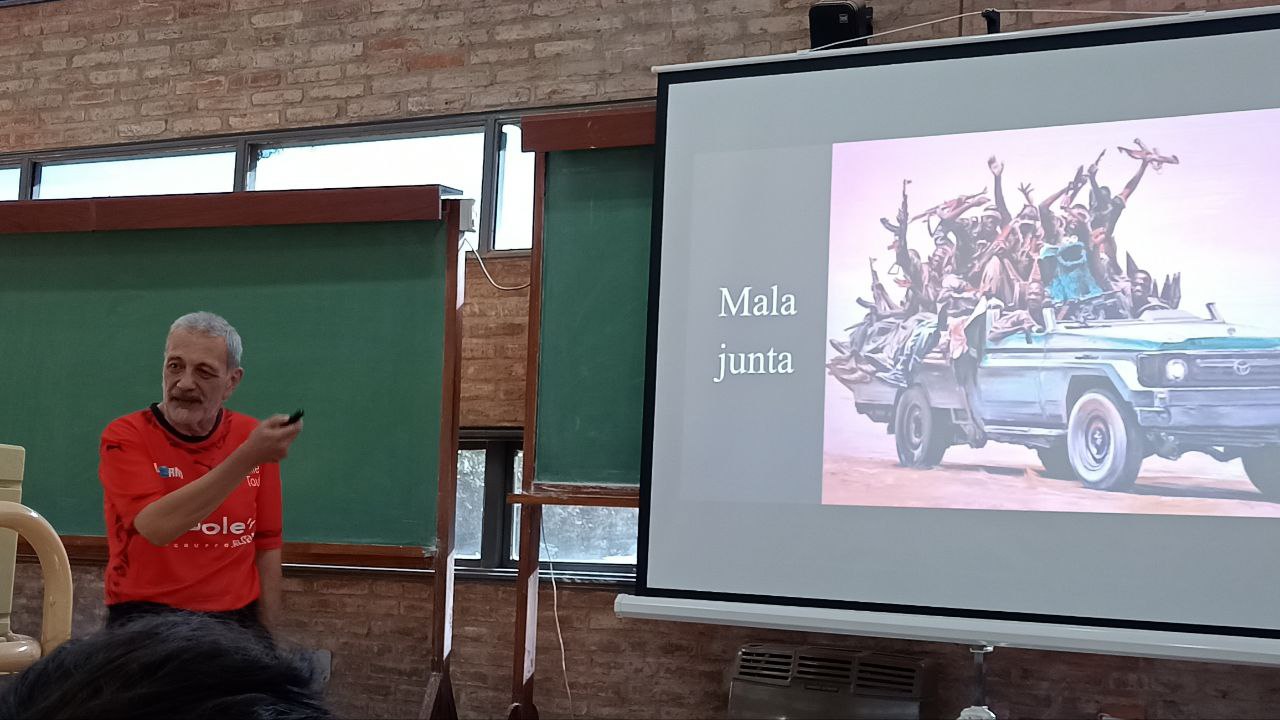 In addition to the workshop with which we started the conference, on Saturday 16, Enrique Chaparro, member and former president of Fundación Vía Libre, gave a keynote: "The Wrecking Ball: Demolishing AIs". An exploration of the security challenges posed by machine learning (ML) systems, and in particular generative artificial intelligence. Inspecting foundational issues, a taxonomy of attacks, rethinking prototypical cases, and reflecting on what lies ahead.
"Is AI a new monster in town? It's the mummy that gets resurrected! That is going to take away jobs, teaching, television creations. Are we going to be a future white house?" Thus begins this meeting Enrique Chaparro. And he immediately continues, to put in contrast those who say that AI is salvation and guarantee effective progress and ride the "big wave". He discusses and raises what are the real risks of AI. Political and social risks involved. And he mentions them: "Amplification of bias. Naturalization of stereotypes. Subtle discrimination. Concentration of power. Limits of permitted discourse. Processes of truth generation. And we're just beginning the count."
You can watch the full conference on our youtube channel. https://youtu.be/NY6FF14cALQ
The closing of Saturday, ended with the panel: "Situation of free software, history and new challenges" where Cristoph Hedwig, special guest from Australia, together with Enrique Chaparro and Nico Echaniz from the NGO AlterMundi. It was moderated by Matias Bordone, one of the organizers of JRSL and also part of the Vía Libre team.
Four days of reunions, conversations between corridors, computers and pure community. A movement that continues to grow stronger with each meeting, that is why the next meeting has already been defined: Santa Fe will be the host. See you there!
Las 12° Jornadas de Software Libre fueron posible gracias a la colaboración de Facultad de Ciencia Exactas Fisicas y Naturales (UNC), Fundación Via Libre, FAMAF (UNC), Libre Base, Festival Latinoamericano de Instalación de Software Libre Cordoba, Salta LUG, INTI, ADUIC, Fundación Sadosky y la Fundación Heinrich Böll Cono Sur.